Langtang Trek – to the Yak valley and beyond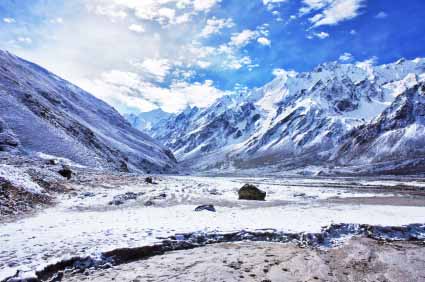 Overview:
The trail once traversed by a Lama (Buddhist abbot) while searching for one of his lost yaks that (as this myth goes ) was found in the valley named after this incident (In Tibetan, lang = pursue, Tang = male Yak) , is most suitable for ones seeking a miniature package of "Himalaya trek " in a relatively shorter time and a gradual ascent.
The trek usually commences from Syabrubeshi, accessible by the local/tourist bus, jeep or any other vehicle from Kathmandu- about 7 hours ride through a convenient highway, most of which is black-topped. Some prefer to stay at Dhunche before reaching Syabrubeshi, which is the district headquarter and where you can find hotels offering good accommodation and better services, banks, and even a pool/snooker hall!
The major highlights of this trek are:
Passing through major portion of the first Himalayan national park of the country- the Langtang National Park leading through the spectacular forests of pine, alder, bamboo and rhododendron and frequent sights of species like Langur, Himalayan partridge, Himalayan hawks , ravens or even endangered animals like red panda(if lucky!).
Lodges and tea-shops available in short intervals throughout the route that not only offer a short break for relaxing but can also be availed of in case you need to make some changes in your itinerary, due to unforeseen causes.
The panoramic views of "snow-white" mountains including Langtang Lirung(23766 ft) and Dorje Lhakpa(22850 ft); views that offer a respite to turn your attention away from the exhaustion.
Shrines (temple/monastery), numerous Tsortens(stupas) and water driven Manis ( prayer-wheels) along the way ,surely attracting the ones interested in spirituality.
Herds of yaks and horses, close at hand as you walk, making jingles with the bell wrapped over their neck as they move along.
Glacial moraines and hills that may be excursed within a day from Kyanjing-Gompa (the final destination), offering magnificent and close views of the mountain summits in all 3 directions! These range from relatively easier Kyanjing-ri(~16100 ft) to a challenging non-technical climb of Yala peak(~18000 ft)
A chance to savoir locally manufactured yak cheese, yak milk and yoghurt, sea-buck thorn juice, Tibetan bread and pancake, momo(dumpling) ,Chyang(Tibetan beer) and other local delicacies at low price.
Hospitable, candid and smiling inn-keepers, most comprehending basic English, making sure you are well-accommodated and "at home".
Most importantly, all these can be achieved via less strenuous, gradually ascending and a short, 12 days trek.
Not sure where to begin? Start here!
Check out our comprehensive itinerary, which describe all the must see Himalayan attractions in Langtang region and the Kathmandu valley tours that give you a great starting point for navigating the trekking region!
So, if you are interested to behold Yaks, horses, birds, mountain peaks, Tibeto-Buddhist culture and heritage in an economical, short and comfortable trek, why not fill out this inquiry form and get a travel information for free?