Nepal – Helambu Circuit Trek – Through the Settlement of Low-land Sherpas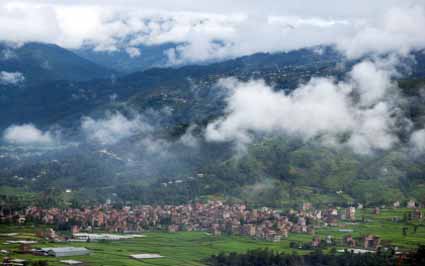 Overview:
Helambu is a Sherpa village lying to the north-east of Kathmandu. The circuital trek passes through culturally and religiously significant places of Helambu region. The route also offers panoramic vistas although it contours along regions of medium altitudes. This feature is advantageous for ones who need to think twice before commencing high altitude treks. The Sherpa peoples of Helambu are not identical to the Sherpas of Everest region; however, both follow Tibetan Buddhism. There are plenty of lodges and inns available throughout the route so the problem of accommodation or the necessity of camp and sleeping bag is almost none. Manis, chortens and gompas that are frequently encountered on the way are the symbols of religious and cultural steadfastness of the inhabitants. Helambu is famous for the stringed instrument called Tungna, similar to Tibetan lute, which is usually crafted by Hyolmo Sherpas of the region.
Major highlights of the Trek:
Easily accessible from Kathmandu. The trek starts within an hour you depart from your accommodation at Kathmandu.
Gentle route maintaining at medium heights relieving the fear of altitude related complications.
Places with deep religious commitment and cultural maintenance.
Attractively Scenic views of Himalaya.
Comprehensive itinerary:
Day 01: Arrival at Kathmandu
As soon as the jet you are flying on lands at the airport of Kathmandu, you will be approached by tour staffs and escorted to your hotel. Later, you may want to enjoy the night-life around the tourist-center Thamel or take an early rest to relax your travel exhaustion.
Day 02: Sightseeing in Kathmandu
After breakfast, your guide will take you to the premises of Syawambhunath- the monkey temple and afterwards, to the national museum of Nepal. Then, you will be guided to the UNESCO heritage of Kathmandu- renowned Durbar Squares. Durbar Square is actually a common name of the heritages in all 3 districts of Kathmandu valley where Malla kings (medieval rulers) dwelled and carried out all their royal duties from. Here, you can observe ancient temples with inimitable structures and architecture. There is also a 500 year old temple built of a single tree trunk – the kasthamandav, after which Kathmandu got its name. The places worth visiting here are Kumari (living goddess) temple, 9-storey palace, Taleju Bhawani temple, Hanuman Dhoka palace, the fierce statue of Kal Bhairabh and several other temples and statues.
From here, you will drive to Baudhanath which is the holiest shrine for the buddhists of Nepal, especially the Tibeto-Buddhists. There are numerous monasteries, shops of handicrafts, bookshops (chiefly comprising books on Buddhism and Nepal) and clean cafes in the area. After spending some time here, you will be guided to the next Durbar Square – Bhaktapur Darbar square. The place is also similar in architecture to that of Kathmandu Dhoka Durbar Square you visited the earlier day, but has its own artistic significance if closely observed. Your guide will provide detailed information before taking you to last sight-seeing spot- Patan Durbar Square. Apart from the temples and museum around Patan Durbar square, you will also visit a 14th century Buddhist monastery which is the center of rituals of Newar Buddhists of that area. Their ritual is quite different than that of Tibetan Buddhists.  Subsequently, you will drive back to your hotel or may instead shop around markets. Since next day you will be heading for your trek, an early bed would be preferable to the late night stay.
Day 03: Kathmandu to Chisopani (7500 ft.)
Estimated time: 6 hours
Estimated height Gain:~ 3200 ft
After breakfast, you will drive to Sundarijal where your trek starts. Sundarijal is the north-eastern gateway to Shivapuri National park. It houses a hydroelectric station and is a popular holiday hangout for Kathmanduites. After spending sometime around the dam site or park, you will walk upwards along the oak and rhododendron forest. You will cross a pass called Borlang Bhanjyang (8000 ft.) which falls on the rim of Kathmandu valley before reaching Chisapani. Chisapani is linked by another trail that leads to Baghdwar and Shivapuri peak. Plenty of hotels are available here at Chisapani, a few even equipped with modern amenities.
Day 04: Chisopani to Kutumsang (8100 ft.)
Estimated time: 6 hours
Estimated height Gain: ~ 600 ft
Chisapani is one of the places in the vicinity of Kathmandu that are well-known for offering a fine sunrise view. Make sure you wake up early not to miss the opportunity. The trail continues to Gul Bhanjyang, a small Tamang village, reached within 3 hours from Chisapani. Another 3 hours of walk through oak forest will lead you to another Tamang village of Kutumsang. You will overnight in one of the rustic lodges.
Day 05: Kutumsang to Tharepati (11500ft.)
Estimated time: 7 hours
Estimated height Gain: ~ 3400 ft
Tharepati is pinnacle of the whole trek so expect this day to be a bit challenging. However, you can set your feet on the destination within 7 hours of steady, yet playful walk. The trail passes through rhododendron forest and you can witness the snow caps of Langtang, Jugal ang Gauri Shankar, provided the weather is clear. You will overnight at Tharepati.
Day 06: Tharepati to Melamche Gaon (7900ft.)
Estimated time: 7 hours
Estimated height loss: ~ 3600 ft
From Tharepati, the trail drops significantly passing through forest and crossing Melamchi khola until Melamchigaon is reached. Sherpas are the principle dwellers of the place. A number of lodges are available here for night stay. There is also a monastery near the village.
Day 07:  Melamche Gaon to Tarke Ghyang (8000 ft.)
Estimated time: 5.5 hours
Estimated height gain: ~ 100 ft
You will start  early and descend for about 2 hours before crossing Melamchi Khola for the second time, after which you will start climbing. An ascent of approximately 1000 ft. will bring to to Tarke Ghyang, another Sherpa village. The literal translation of the place in local dialect is " temple of 100 horses", named after a temple that was founded by a Lama in the early 18th century who was rewarded 100 horses for stopping an epidemic in the valley of Kathmandu. You will overnight at Tarke Ghyang.
 Day 08: Tarke Ghyang to Kiul (4200 ft.)
Estimated time: 4.5 hours
Estimated height loss: ~ 3800 ft
Passing a series of Mani wall and a monastery, you will continue through rhododendron forest before crossing a tributary to reach Kakani, a small village inhabited by Sherpas. You will pass another row of Mani walls and a chorten entrance before descending to Timbu, another Sherpa village but dwelled by Tamangs alike. The trail further descends and within an hour, you will reach the village of Kiul for night stay.
Day 9: Kiul to Kathmandu
Estimated time: 6-7 hours
A drive along mountainous route of Arniko highway will bring you back to Kathmandu within 6 hours.
Day 10: Departure or prolongation of stay (as your wish!)