Everest trek – observing Sherpa culture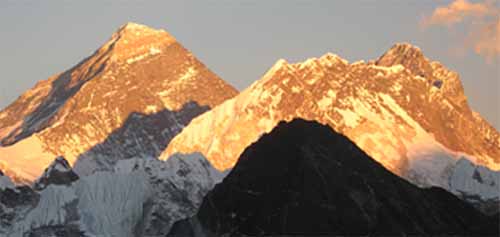 Overview:
When you think of trekking in Nepal, Everest trek would be one of the remarkable adventures of your life time. Don't forget that Mount Everest is the highest peak on the earth. This trek offers you the glimpse of Khumbu region and Mount Everest itself. The Khumbu region is very popular among international visitors. This route tracks the main course of Khumbu region from the Sherpa town of Namche Bazaar which allows the trekkers to have closes view to the Mount Everest range. While trekking through the Khumbu, you will have ample time to observe the Sherpa culture, visit monasteries, and walk along mountain trails lined with prayer flags and beautifully carved mani stones – learning how Buddhism influences Sherpa life. The climax of the trek is a very early morning climb of the 18,450 ft. Kala Patthar for watching one of the most awesome views as the sun rises on Everest.
The major highlights of hhis trek are:
An unrivaled feat of reaching the base camp of the highest peak in the world.
An opportunity to meet, talk and even having the renowned Tibetan herders – Sherpas as your aides.
Night stay at one of the world's highest settlements.
A close observation of Sherpa culture and Tibetan Buddhism with monasteries, Stupas, prayer wheels, flags and mantra carvings on boulders.
Hotels and lodges, enough and to spare, with worthy service.
ATMs, Banks, bakeries, bookstores, gear shops and medical facilities.
Best months: October – December*
* Since the month range specified is best period to trek, it is also the peak season when thousands of tourists swarm towards Everest. So, you might consider other seasons (except winter) in case you want to avoid the crowd and have a plenty of choices in the accommodation. Nonetheless, hotels are available despite the multitude of trekkers.
There are two options for the Everest base camp trek:
Do you have any questions or concerns about this package? If yes then respond by filling up the form below and get in touch with the people at VisitNepal.com. Make sure you include your name, phone number and e-mail address so that we can get back to you soon.