Annapurna circuit trek – encircling the massif via historic trail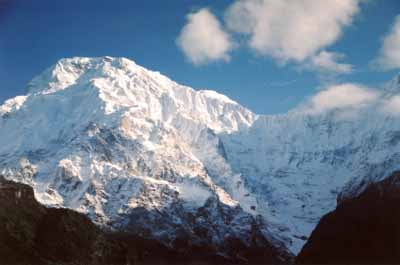 Overview: The word "Annapurna" (Hindu god of harvest) may remind you of the best-seller by Maurice Herzog who first ascended its summit or simply as one of the 14 eight-thousanders on earth. Though scaling the peak like Herzog did is a rarely accomplished feat, encircling the Annapurna massif can be achieved if you are healthy enough to walk for about a score of days. The trek also known as "Round Annapurna trek" is recommended as one of must-travel hikes in the world by travel experts.
The journey is commenced anti-clockwise as the path is less difficult with slower altitude gain than the clockwise circuit. The trail passes through the settlements of various ethnic groups like Chhetri, Gurung, Thakali and Tibetan, though the latter are the principle dwellers of the upper regions. Apart from splendid view of mountains and cultural diversity, mountain rivers, geographical extremes: high altitude desert to high alpine tundra, mighty winds, religious shrines , abodes resembling Tibet and cheerful welcoming villagers are the unforgettable mementoes of the trip.
Major highlights of the trek are:
Outstanding views of Annapurna, Dhaulagiri, Machapuchre, Manaslu and Tilicho
Scenic lodgings of the natives: Gurung, Thakali and upper Manangis.
Sceneries shifting rapidly from layered farm to rolling hills to sun-sparkling peaks to valley dotted with houses.
Muktinath Temple – the religious shrine to both Hindu and Buddhist followers, the former worshiping it as a form of lord Vishnu and the latter as a manifestation of Aalokitesvara.
Monasteries, Stupas and mantras carved on the wall depicting stronghold of Tibetan Buddhism
Remarkable deviation of the ecosystem: from the forests of junipers and pines to upper tundra to the arid desert-like land.
Adventurous and breathtaking feat of crossing the Thorang-La Pass (17,765 ft.) without the need of any or very little gear.
Guest houses and inns throughout the circuit relieving the requirement of camping or carrying foods.
There are two trekking options for encircling the Annapurna:
20-days package (comprehensive itinerary) for the ones wishing to walk further from Johmsom to Ghorepani and Ghandruk to Pokhara, savoring additional exotic cultures and spellbinding sceneries on the route!
Best Months: April-May or October-November
Do you have any questions or concerns about this package? If yes then respond by filling up the form below and get in touch with the people at VisitNepal.com. Make sure you include your name, phone number and e-mail address so that we can get back to you soon.